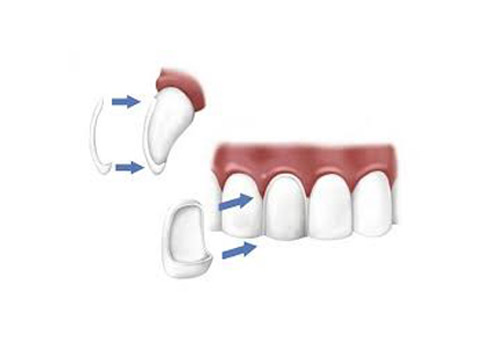 Prosthetic dentistry is a field of dentistry that deals with the construction of prosthetic restorations that replace the loss of dental parts, the loss of one or more natural teeth, but also contributes to a more aesthetic result.
These restorations can be crowns, veneers, inlays, onlays & overlays, bridges, dentures.
In the anterior aesthetic zone (the teeth included in a wide smile) it is widespread to correct the color, shape and size of the teeth with all-ceramic veneers.
The veneers are porcelain "peels", glued to the outside visible surface of the anterior teeth, changing their color, shape and size, giving a beautiful image to the smile of a person. They require minimal grinding of the anterior surface of the teeth, which in some cases, in ultra-thin veneers, the grinding could be missing or minimal.
It is a very conservative process because of the minimal grinding at the level of the enamel (the external layer of the tooth), with spectacular aesthetic results. With the veneers we can change into a more white and bright smile, which remains unaltered for many years.
The gluing of these veneers is done with special resinous cements, preserving the aesthetic image, but also creating a strong bond with the surface of the tooth with very good prognosis and long-lasting effect.
At Panorama Dental Center we follow specific protocols with full or partial use of digital imprint, design and fabrication of veneers.
Branded materials (e-max lithium bipyrite, e-max empress, feldspar porcelain, zirconia) contribute to the effect of an aesthetic result of the veneers.
The ability of the patient, both with digital and intraoral simulations with temporary materials, to see the final result before the tooth surfaces are grinded and before the final veneers are constructed is an essential stage of the protocol and procedure that we follow in our clinic.
Thus, doctor and patient can decide together the final result before removing any dental substance.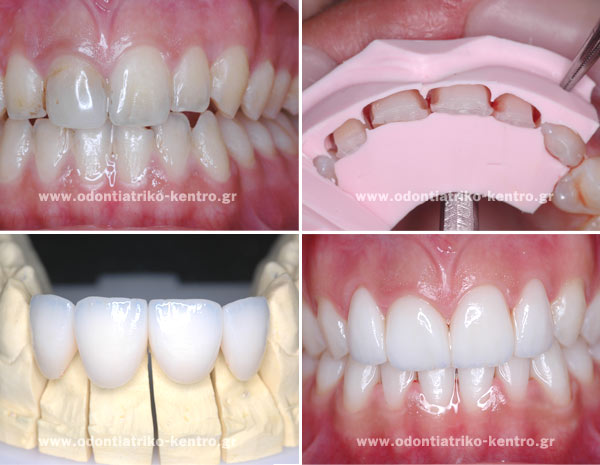 The digital ability offered by our clinic gives the opportunity to the doctor and the patient to take a digital footprint and to speed up the process of fabricating the veneers, as well as a plethora of positive parameters.