Whitening of natural teeth
Bleaching is a widespread and popular process of aesthetic intervention for individuals regardless of sex and age (adult).
In this process we aim to change the color and luminosity of the natural teeth (not the prosthetic restorations, not the fillings).
The chemical methodology followed is approved by the dental science, which considers it to be a conservative, safe and painless dental work that is applied to the natural teeth without affecting their shape.
Here it should be highlighted that bleaching by using whitening toothpastes is not chemical and is achieved by rubbing some hard micro-materials contained in the toothpaste with the dental surfaces.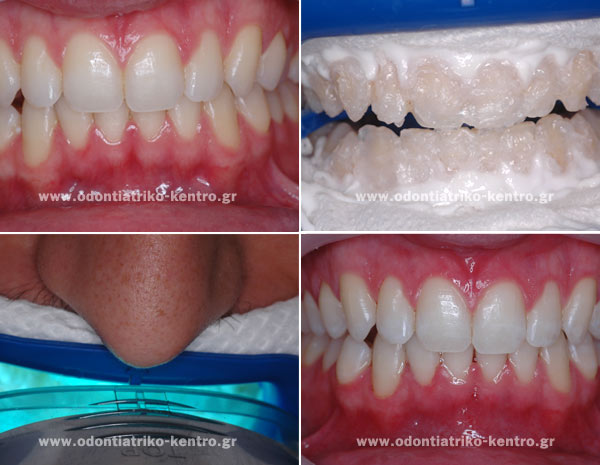 Of course this friction causes permanent damage to the protective coating of the tooth and development of sensitivity. Unlike the chemical whitening of the dentist that does not affect the shape of the teeth, when applied.
Bleaching of natural teeth can be achieved by materials (carbamide peroxide or hydrogen peroxide) placed on the teeth and activated either by ultraviolet light (eg. ZOOM lamp) or by laser, and by materials that are self-reactive and placed in personalized cast narthex, remaining for some time in the mouth.
In our clinic, we believe that whitening should have a personalized approach that you define from the background color of each patient's natural teeth, desires and expectations, and everyday eating habits (frequent contact with coffee, red wine, tea etc.), and not only (smoking, oral hygiene, etc.). .
Of course our materials and the procedures we follow are within the EU Directive 2011/84 / eu, for the complete safety of our patients.
The methodology of our clinic with the use of materials and the ZOOM lamp, the methodology of the cast narthex at home, and the combination of the two above-mentioned techniques are the proposed bleaching procedures for our patients.
Each selected procedure is proposed with proportionate densities (10%, 16%, 22%) of the active bleaching agents either carbamide peroxide or hydrogen peroxide and a proportionate time of action.
Regular inspection, periodic cleaning and polishing (paste, blasting) from our clinic and good daily oral hygiene from our patients, give a long stay of the whitening effect.
Finally, we need to know that repeating a bleaching process can take place whenever the patient desires it, repeating one or two times to restore the original effect achieved.